Adventure Party Package
$24.99 Each Additional Guest

Package Includes

Decorated Party Table With Balloons For 1 ½ Hour
Trained Party Captain To Host & Organize Party
Choice Of Two Attractions: Mini Golf Game, Laser Tag Session, Bumper Boat Ride, or Go-Kart Ride
20 Arcade Tokens Per Guest
Choice of Hot Dog or Slice of Pizza Per Guest
Unlimited Soft Drinks & Popcorn During Table Time
Paper Goods: Paper Plates, Spoons, Napkins, Forks, etc.
Birthday Bags With Coupons & Discounts
Online Invitations

Birthday Honoree Also Receives

Birthday Mug With Group Picture
Free Quest Pass
200 Redemption Ticket Voucher
$50 Non-Refundable Deposit Required To Make Reservation
Super Adventure Party Package
$27.99 Each Additional Guest

Package Includes

Decorated Party Table With Balloons For 1 ½ Hour
Trained Party Captain To Host & Organize Party
Choice Of Three Attractions: Mini Golf Game, Laser Tag Session, Bumper Boat Ride, or Go-Kart Ride
30 Arcade Tokens Per Guest
Choice of 2 Hot Dogs or 2 Slices of Pizza Per Guest
Unlimited Soft Drinks & Popcorn During Table Time
Paper Goods: Paper Plates, Spoons, Napkins, Forks, etc.
Birthday Bags With Coupons & Discounts
Online Invitations

Birthday Honoree Also Receives

Birthday Mug With Group Picture
Free Quest Pass
300 Redemption Ticket Voucher
$50 Non-Refundable Deposit Required To Make Reservation
NEW - Mega Adventure Party Package
$34.99 Each Additional Guest

Package Includes

Decorated Party Table With Balloons For 1 ½ Hour
Trained Party Captain To Host & Organize Party
3 Hours of Miniature Golf, Laser Tag, Bumper Boats, and Go-Karts
40 Arcade Tokens Per Guest
Choice of 2 Hot Dogs or 2 Slices of Pizza Per Guest
Unlimited Soft Drinks & Popcorn During Table Time
Paper Goods: Paper Plates, Spoons, Napkins, Forks, etc.
Birthday Bags With Coupons & Discounts
Online Invitations

Birthday Honoree Also Receives

Birthday Mug With Group Picture
Free Quest Pass
300 Redemption Ticket Voucher
$50 Non-Refundable Deposit Required To Make Reservation
Plus, Get a FREE $20 Game Card When You Book Your Party To Be Held Monday-Friday!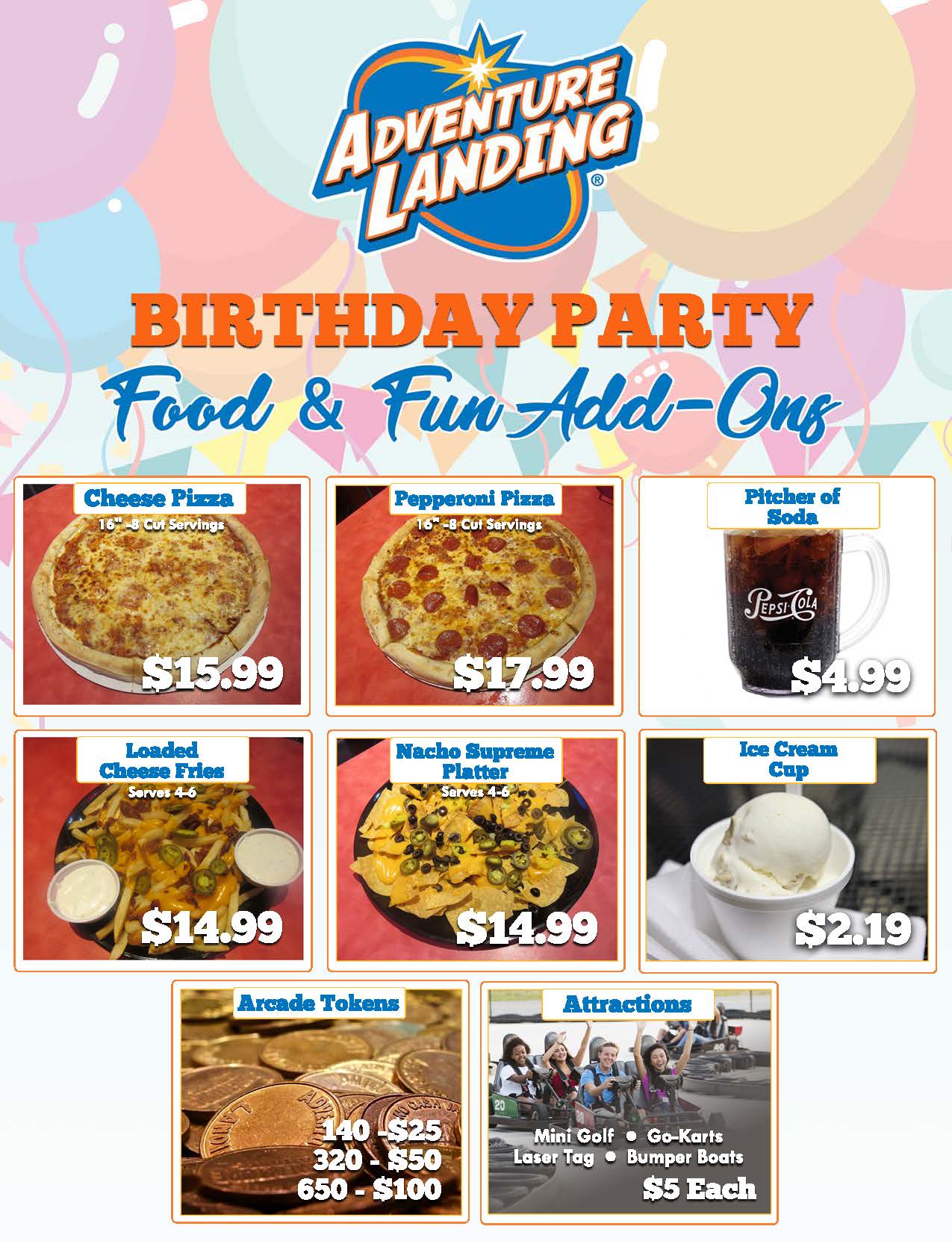 Call (972) 248-4653 and make your reservations today, or book online now
Do You Have Any Guests That Require Special Accommodations?  Give Us A Call Prior To Booking Today To Discuss.
Extra Food & Drink
Whole Cheese Pizza (16″) – $15.99 each
Whole Pepperoni Pizza (16″) – $17.99 each
Loaded Cheese Fries (serves 4-6) – $14.99
Nacho Supreme Platter (serves 4-6) – $14.99
Pitcher of Soda – $4.99
Ice Cream Cup – $2.19
Extra Games
$10 Game Card – $5.00 Each
Add More Attractions
Choose any single attraction: Go-Karts, Laser Tag, Bumper Boats or Miniature Golf for $5/ea.
*All pricing is plus tax
*There is a non-refundable $50.00 deposit for each party
*Reservations are required and 72 hours is preferred
*Book your party as early as possible to reserve the date and time you want – space is limited!